In the tranquil city of Chiang Mai, amidst its lush surroundings and serene ambience, lies a cherished secret to unwinding and rejuvenation—oil massages. This is your gateway to a world of relaxation, where skilled therapists work their magic with aromatic oils. Join us as we explore the art of oil massage in Chiang Mai, a journey that promises tranquility and rejuvenation like no other.
Discover relaxation and rejuvenation at Kiyora Spa in Chiang Mai. Renowned for exceptional oil massages, skilled therapists, serene ambiance, and holistic wellness benefits, Kiyora Spa is your trusted haven for oil massages. 
But there's more to this oasis of tranquility than meets the eye. Kiyora Spa isn't just about massages; it's a holistic wellness experience. From the moment you step inside, you're transported into a world of relaxation, where every detail is meticulously designed to soothe your senses. The therapists here aren't just skilled; they're passionate about the art of massage, tailoring each session to your specific needs.
So, if you're ready to embark on a journey of relaxation and rejuvenation, read on to discover why Kiyora Spa stands out as the ultimate destination for oil massages in Chiang Mai or…Why not make a booking now and enjoy one of our oil massage modalities by using our user-friendly online booking system?  We even provide a complimentary round-trip shuttle service to make it even easier for you.
Unlocking the Secrets of Kiyora Spa: Your Oasis for the Best Oil Massage in Chiang Mai
Nestled in the heart of Chiang Mai, Kiyora Spa stands as a tranquil oasis amid the bustling city. The answer to your quest for the best oil massages in this charming Thai province can be found right here. Kiyora Spa has earned its esteemed reputation not just for our use of premium oils but for the complete experience we offer.
A Symphony of Oils and Techniques
At Kiyora Spa, an oil massage is more than a therapy; it's a journey towards relaxation and rejuvenation. Our skilled therapists, trained in the art of massage, don't just apply oil; they create a symphony of soothing sensations that resonate throughout your body.
Aromatherapy Massage: Step into a world of fragrant essential oils with our aromatherapy massage. Our therapists use a blend of essential oils tailored to your preferences, enhancing your relaxation and promoting overall well-being.
Aromatherapy Hot Oil Massage: Experience the combined benefits of aromatherapy and the soothing warmth of hot oil. This massage not only relaxes your muscles but also calms your mind, making it a favorite among our guests.
Swedish Massage: Our Swedish massage is a classic choice for those seeking relaxation. It involves long, gliding strokes, kneading, friction, tapping, and gentle stretching to enhance your body's circulation and ease muscle tension.
Hot Stone Massage: Imagine warm, smooth stones gently placed on key points of your body, radiating soothing warmth. Our hot stone massage is designed to melt away stress and tension while improving blood flow and promoting deep relaxation.
Deep Tissue Massage: For those who prefer a more intensive treatment, our deep tissue massage targets the deeper layers of muscle and connective tissue. It's ideal for releasing chronic muscle tension and knots.
The ambiance itself sets the stage for a serene escape from the rigors of daily life. Soft, ambient music, fragrant essential oils, and the gentlehands of our therapists combine to create an experience for oil massage Chiang Mai that transcends the ordinary.
But what truly sets Kiyora Spa apart is the therapeutic benefits you'll gain from our oil massages. While high-quality oils are essential, it's our therapists' expertise that maximizes their effects. They know how to knead, stroke, and manipulate your muscles to release tension, improve circulation, and induce a state of profound relaxation. It's not just a massage; it's a holistic wellness journey. Book your session at Kiyora Spa and embark on your own personal journey of rejuvenation. All you have to do is enter your details here. 
Oil massages offer a wealth of health benefits that extend beyond mere relaxation. These massages are renowned for their ability to reduce stress and anxiety, making them a popular choice for those seeking mental and emotional well-being. The high-quality oils, combined with the skilled hands of therapists, helps calm the nervous system, promoting relaxation and reducing cortisol levels, the body's stress hormone.
In the table below, we breakdown all modalities at Kiyora Spa that use massage oil and match them with their individual benefits.
Oil Massage Modality
Description
Health Benefits
Aromatherapy Massage


Aromatherapy massage combines massage techniques with the use of aromatherapy massage oils. Massage oils are selected based on individual needs and preferences.
- Promotes relaxation and stress reduction.
- Improves mood and mental well-being through the use of aromatic essential oils.
- Alleviates muscle tension and pain.
- Enhances sleep quality.
- Boosts the immune system through improved lymphatic circulation.
Aromatherapy Hot Oil Massage


Aromatherapy Hot Oil Massage is a soothing and therapeutic experience that combines the healing power of massage with the aromatic benefits of the soothing warmth of hot oil.
- Combines the benefits of aromatherapy with muscle relaxation from hot oil.
- Reduces muscle stiffness and promotes flexibility.
- Relieves stress and anxiety.
- Improves blood circulation and overall body balance.
- Heightens the senses with pleasing aromas.
Swedish Massage


Swedish massage utilizes long, flowing strokes, kneading, and circular movements. Massage oils are used for smooth gliding.
- Relieves muscle tension and pain.
- Enhances blood circulation.
- Promotes relaxation and reduces stress.
- Improves joint flexibility and mobility.
- Aids in the removal of toxins from the body.
Deep Tissue Massage


Deep tissue massage focuses on releasing chronic muscle tension and knots using firm pressure and slow strokes. Massage oils are used for smoother movements.
- Eases muscle tension and chronic pain.
- Enhances blood flow and relaxation.
- Relieves symptoms of autoimmune diseases, like fibromyalgia.
- Promotes better sleep.
- Reduces stress and anxiety.
Hot Stone Massage


Hot stone massage involves the use of heated smooth stones placed on specific areas of the body. Massage oils are used for smoother movements.
- Addresses chronic pain and muscle stiffness.
- Breaks up scar tissue and adhesions.
- Improves posture.
- Reduces inflammation.
- Promotes relaxation and stress reduction.
These massages are seen as holistic wellness experiences. The combination of relaxation, pain relief, and skin benefits contributes to an overall sense of well-being, making oil massages a favorite choice among locals and tourists alike.
What Oil Blends are Used at Kiyora Spa?
The most popular oil blends (essential oil + base oil) available at Kiyora Spa are:
Aromatherapy Oil Blend Available at Kiyora Spa
Benefits of Essential Oils - These are Added to Our Base Oil
De-Stress

Indulge in the ultimate relaxation with our De-stress oil blend. Crafted with carefully selected essential oils, it's a soothing symphony of nature's finest.

- Bergamot reduces inflammation and elevates your mood
- Patchouli brings relaxation and eases stress.
-The bright notes of Orange lift your spirits and melt stress away.
- Geranium offers a holistic approach, reducing anxiety, depression, and aiding in pain management.
Refresh

Revitalize your senses with our Refresh oil blend, thoughtfully curated to bring serenity and relief.

- Lavender's calming and soothing properties create a tranquil ambiance
- Rosemary offers effective pain and stress relief.

Together, they harmonize to provide a refreshing experience, helping you unwind and rejuvenate.
Harmony
Discover true harmony with our carefully crafted oil blend.

- Geranium, renowned for its anxiety and pain-reducing qualities.
- Lavender being a calming and soothing force.
- Sandalwood adds a touch of calmness, lowering stress and enhancing sleep quality.

Experience perfect balance and tranquility with our Harmony blend.
Calming

Embrace tranquility with our Calming oil blend, a fusion of Green Grape and Long Papaya.

- Green Grape, known for its calming properties, not only soothes the mind but also promotes skin health.
- Long Papaya, with its anti-inflammatory and anti-microbial qualities, adds an extra layer of relaxation.

Rejuvenate your body and soul with this calming blend.
What Ingredients are in the Base Oil
Essential oils are added to a carrier or base oil to make an oil blend for massage use.  At Kiyora Spa, our base oil is a mixture of sweet almond oil, grape seed oil, carnation oil and Vitamin E.  Our high-quality base oil formulation is the reason we recommend you don't shower immediately after a massage to allow the oil to penetrate your skin for maximum benefit.
Now all this talk on essential oils, base oils and oil blends can get a little overwhelming.  But don't worry!  Our reception team at Kiyora Spa will guide you through the whole process without you having to be an expert.
Does Kiyora Spa Have Other Types of Massage?
Kiyora Spa boasts a team of therapists who are skilled in various massage modalities commonly found in Thailand's top-notch spas. These include:
Thai Massage:
Head-Back-Shoulders Massage
Holistic Body Massage:
At Kiyora Spa, we've thoughtfully curated spa packages that incorporate these diverse massage techniques, seamlessly blending them with facials, body treatments, and soothing hydrotherapies. Our aim is to provide you with a holistic and deeply relaxing experience that nurtures both your body and mind.
How Do I Book an Oil Massage at Kiyora Spa?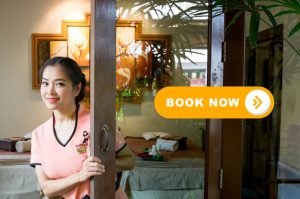 Ready to experience an Oil Massage at Kiyora Spa? It's more than just a therapist slapping some oil on you; it's a holistic journey with soothing aromas of our oil blends and skilled therapists that will harmonize mind, body, and spirit. Treat yourself to the best in Chiang Mai and book your oil massage session today.
Discover why our guests call it the #1 authentic retreat in the city. We also offer a Free Roundtrip Shuttle Service which will give you that VIP feeling. Secure your unforgettable experience now!