Welcome to the world of aromatherapy massages in Chiang Mai, where you're about to uncover hidden secrets of relaxation and wellness. Get ready to expand your horizons!
If you're looking for an authentic aromatherapy massage in Chiang Mai, look no further than our spa, Kiyora Spa. Our highly trained therapists, coupled with our exceptional aromatherapy oils, have established an outstanding reputation appreciated by both local residents and travellers.  
Kiyora Spa is a hidden gem in Chiang Mai, known for its tranquil ambiance and expert team. Don't wait – book your appointment with us today using our convenient online booking system.
Elements of a Great Aromatherapy Massage
An aromatherapy massage is a massage therapy that combines the use of essential oils mixed with a base or carrier oil, each with unique scents and therapeutic properties, to enhance relaxation and well-being during a massage.
When it comes to finding an authentic aromatherapy massage, there are some key elements to look for. It's not just about nice-smelling oils and a few back rubs – a great aromatherapy massage is like a carefully planned wellness journey.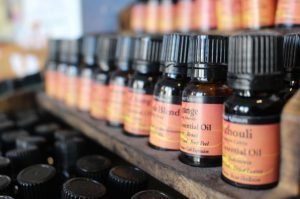 First off, the oils used are super important. At Kiyora Spa, we pick the best oils available in Thailand, and each one has a special job. Like lavender helps you relax with it's calm and soothing properties.
Rosemary offers effective pain and stress relief and bergamot reduces inflammation and elevates your mood.  These are just a few of the essential oils we've used in our blends.
These oils are like the secret sauce that makes your massage amazing.  You can read more about our essential oils in this article. 
Skilled Therapists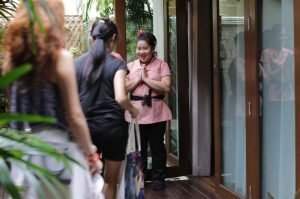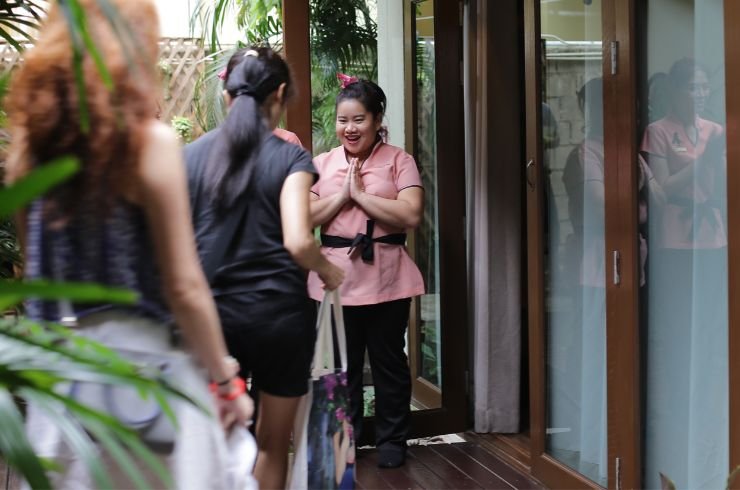 Having skilled therapists for aromatherapy massage is crucial. Their expertise ensures the safe and effective use of essential oils, maximizing therapeutic benefits.
They personalize the experience, addressing individual needs and concerns. Proficient in various massage techniques, they create a harmonious and comfortable session.
Skilled therapists establish a tranquil and trustful environment, enhancing the overall success of the aromatherapy massage. Their proficiency is the key to unlocking the full potential of aromatherapy for the guest's well-being.
Spa Ambience
Establishing a top-tier spa ambiance for aromatherapy massages is absolutely crucial, as it caters to all five senses. This immersive experience is pivotal in inducing relaxation and relieving stress, offering a much-needed escape from the daily grind.
The visual aspect is enticed through soothing colors and traditional Thai decor, while the auditory dimension is provided by gentle sounds of calming music or nature. Essential oils engage the sense of smell, amplifying the therapeutic benefits of aromatherapy.
The hands-on experience, courtesy of skilled therapists, and the overall atmosphere serve to emphasize the importance of a holistic approach, ensuring each aromatherapy massage is an unforgettable and transformative journey.
Why Should You Trust Kiyora Spa with Your Aromatherapy Massage Needs?
At Kiyora Spa, your well-being is our top priority. Our skilled therapists specialize in aromatherapy and massage, providing a personalized and soothing experience. Their passion for wellness is at the heart of our services.
We use high-quality essential oils, focusing on their therapeutic advantages. Our tranquil environment, complete with a serene garden, elevates your retreat from everyday life.
As a renowned Chiang Mai spa, we've earned trust for our top-tier service. Opt for Kiyora Spa for professionalism, expertise, and a tailor-made journey to well-being. Your wellness is our dedication.
What People Say About Kiyora Spa
You've heard our thoughts, but what do the people who've been for an aromatherapy massage say:


Does Kiyora Spa Have Other Types of Massage?
Kiyora Spa boasts a team of therapists who are skilled in various massage modalities commonly found in Thailand's top-notch spas. These include:
Thai Massage:
Head-Back-Shoulders Massage
Holistic Body Massage:
How Do I Make a Reservation at Kiyora Spa?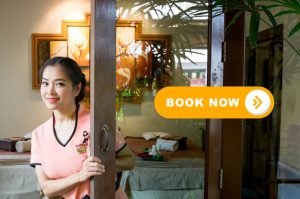 Ready to try a highly-rated Aromatherapy Massage? It's more than just a regular oil massage at Kiyora Spa; Experience an authentic aromatherapy massage – premium essential oils along with highly skilled therapists. 
Treat yourself to the best in Chiang Mai and book your Aromatherapy Massage session today. Discover why our guests call it the #1 authentic retreat in the city. We also offer a Free Roundtrip Shuttle Service which will give you that VIP feeling. Secure your unforgettable experience now!