Nuad Thai or the traditional Thai massage has made it to the prestigious list of the United Nations Educational, Scientific and Cultural Organization's (UNESCO's) Intangible Cultural Heritage of Humanity, which focuses on the different traditions and practices being passed from one generation to the next. This means that traditional Thai massage is now recognized as something that the world has to preserve for the future generations to come.
So what makes traditional Thai massage so special compared to other massage modalities? Unlike the conventional massage you've probably experienced, traditional Thai massage involves a lot of physical movements with both therapist and client assuming varied positions. The therapists don't only use their hands to massage your body but also utilize their knees, feet and forearms when applying pressure. Another thing that sets it apart from other massage is the fact that oil isn't used at all.
According to UNESCO, this kind of massage is a form of self-care practiced in the past among Thai peasants. The organization added that each village had their own massage healers and villagers would seek them whenever they suffered muscle pains from working in the fields.
The UNESCO's Intangible Cultural Heritage of Humanity list aims to recognize such practices which must be preserved for future generations just like the songs and stories being handed down from the past. Such forms a part of human heritage and therefore it's imperative for it to be safeguarded.
Thailand is often dubbed as the spa capital of the world and for good reason. It is known for being a holistic destination for people longing to experience relaxation and wellness. At the heart of the exotic country's therapeutic treatments is the Nuad Thai or the traditional Thai massage. It's an indigenous form of massage known for its essential role in promoting wellbeing. It's also in line with Thai medicine thus making it more than just your regular spa treatment but also as a healing and curative practice.
Below you'll find some of the major benefits of getting a traditional Thai massage:
1. Promotes mindful rest
It is deeply transformative. You can immediately feel your mind and body relax the moment you step inside a dimly-lit room that smells of flowers with soft calming music in the background. The methodical movements of your therapist can lull you into a very restful state as you surrender yourself to the present. You'll feel like being transported to a place and time without the daily stress.
2. Relieves muscle and joint pains
One of the results of traditional Thai massage you'll immediately experience is how it relieves you from muscle and joint pains. Remember that the therapist won't only be using his or her hands but also the knees, feet and forearms as he or she kneads, rock, and apply pressure on the different parts of your body. The movement is effective in alleviating tension in your joints and relaxing the muscles. Your stretched muscles and joints will feel rejuvenated and lighter.
3. Recharge your body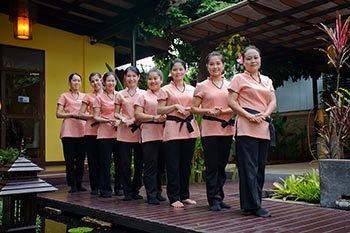 Think of your body as your mobile phone. Isn't it that after being used for a long period of time your phone's battery diminishes and dies when left uncharged? The physical body that you have also experiences the same thing if burned out. You're always busy with work with no time to relax anymore. Before you know it, you get too tired and your body becomes sick and you no longer have the energy to carry on your daily tasks. This is where the traditional Thai massage can greatly help you. Aside from relieving your muscles and joints from pain, it also energizes the body. It will leave you feeling lighter, more relaxed, and energized. Your therapist will work along your sen, or energy lines, allowing energy to move all over your body. As your body is massaged, stretched, manipulated, and become exposed to pressure, Nuad Thai maintains internal balance by connecting the mind and body to release energy.
4. Experience yoga wellness
Yoga is one of the most popular health and wellness practices out there because of its numerous benefits to the body. In case you don't know how to do it or you don't have time to do so, well having a traditional Thai massage allows you to experience the benefits of yoga. That's because Nuad Thai is also considered a Thai yoga massage. The therapist will be moving your body into different yoga positions as he or she stretches your muscles. You'll be surprised how your body sweats it out as your therapist works on making you more flexible. This is ideal especially for people who have physical limits after suffering from an injury or illness.
5. Customized therapy anytime, anywhere
Traditional Thai massage takes time to master. A well-trained therapist will know exactly how to perform the massage based on your body's needs. Usually, you will begin your session lying on your back while the therapist starts by massaging your feet before turning you over. Sometimes, he or she will do some movement while you're on your side before flipping you over. You'll also feel that he or she will vary the pressure from very light presses to deeper tissue massage. You'll also experience some demanding stretches. But there's no need to worry. Just relax and let your therapist do their job.
Another thing about traditional Thai massage is you can have them anytime, anywhere. Many people prefer having it during sunset at a beachfront or in a spa surrounded by nature. Meanwhile, a massage at night is also ideal for those who want a good night's sleep. You'll be waking up a whole new person in the morning.
6. Lowers blood pressure and detoxifies the body
Nuad Thai has been handed down from one generation to the next because of its effectiveness in lowering blood pressure and promoting detoxification. The massage reduces the strain on your cardiovascular system and as your body breathes in more oxygen and releases carbon dioxide, you'll experience better mental clarity. This is one of the reasons why a Traditional Thai Massage is the most ideal antidote for people suffering from jet lag as well as to those who have been exposed to too much sun.
7. Promotes positive emotions
Traditional Thai massage is so relaxing that it can help you release your negative energies. It lowers cortisol levels in the body and releases serotonin neurotransmitters which are responsible for the feel-good hormones. You won't only feel more relaxed but also happier. This is why many love a well performed traditional Thai massage as a way of self-care.
The traditional Thai massage or Nuad Thai has numerous benefits. Now that it is preserved under UNESCO, we are confident that many future generations will be able to enjoy and experience the benefits that this unique treatment offers.