Have you ever questioned the dramatic price range of aromatherapy massages in Chiang Mai? Prepare for an aromatic exploration of Chiang Mai's massage scene as we uncover the various price factors on these tranquil journeys.
In Chiang Mai, aromatherapy massages typically range from 200 to 2,400 Baht for one hour.  Prices vary based on location, quality, and expertise of the spa or massage shop.  At Kiyora Spa, an aromatherapy massage costs 1,200 Baht for an hour.  
The cost of aromatherapy massages can change a lot, and it depends on various things. If you go to a high-end spa, it might be more expensive because they use high-quality oils.  And their therapists are skilled and experienced. But if you opt for a local massage place, it could be cheaper.  Although it might not be as fancy, and the oils may not be as great.
And here's the key – the therapists, make a big difference in the price. Experienced ones charge more because they're really good at what they do.
So, it all comes down to what you're looking for. If you want a luxurious spa day, that might cost more. But if you're on a budget, you can find options in Chiang Mai that'll give you a relaxing experience without breaking the bank. Stick around, and we'll help you find the best balance between quality and cost.
Aromatherapy Massage Pricing in Chiang Mai: From Budget to Luxury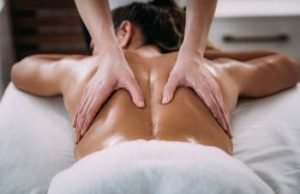 How much does an aromatherapy massage cost in Chiang Mai?  You can pick from different kinds of aromatherapy massages to match yourbudget. If you're on a tight budget, local Thai massage shops and wellness centers offer good options.
You can get a one-hour massage for around 200 to 500 Baht, but keep in mind that the quality and the place might not be super fancy.  But then again, you can get lucky and find a really good therapist in these places too.
Mid-range spas in Chiang Mai charge a bit more, like 600 to 1,200 Baht for a one-hour aromatherapy massage. They usually have cleaner spaces, better oils, and a more peaceful atmosphere.
But, if you're feeling extra fancy, high-end resorts and spas are there. They offer premium aromatherapy massages, along with cool extras like saunas or steam rooms. However, these can go from 1,500 to 4,000 Baht or even more.
Remember, the price can change based the quality of oils used, how good the therapist is, and the spa's ambience. It's all about finding what suits your budget and what kind of experience you want.
What Determines the Cost of an Aromatherapy Massage in Chiang Mai
How much an aromatherapy massage costs in Chiang Mai can vary widely based on several key factors, and understanding these elements can provide insight into why Aromatherapy Massage at Kiyora Spa costs 1,200 THB per hour.
Therapist Experience
Our therapists at Kiyora Spa are not just skilled; they are experts in providing aromatherapy massages. They have undergone rigorous training and have accumulated years of experience in perfecting their techniques.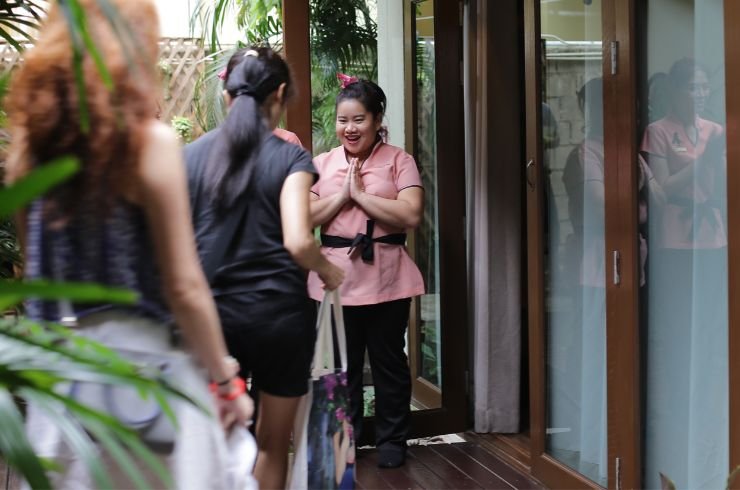 We believe in compensating our therapists fairly for their exceptional expertise, which is a significant factor reflected in our pricing structure.
The years of dedication and ongoing commitment to their craft allow us to offer our guests a level of expertise that contributes to the overall quality and effectiveness of our aromatherapy massages, ensuring each guest receives the utmost relaxation and therapeutic benefits.
Spa Reputation and Expertise
Kiyora Spa has garnered a solid reputation for delivering exceptional spa services in Chiang Mai. Our spa team is renowned for its extensive training and expertise in aromatherapy techniques.
This well-earned reputation for excellence and our therapists' skills contribute to our slightly higher pricing.
Guests often willingly pay a premium for the assurance of receiving top-quality services from well-established and reputable spas, making Kiyora Spa the preferred choice for those who seek the very best in aromatherapy massages in Chiang Mai.
Quality of Aromatherapy Oils
Our commitment to delivering a premium aromatherapy experience extends to the quality of our aromatherapy oil blends, which consists of our quality base oil mixed with high-grade essential oils.
At Kiyora Spa, we give priority to high-grade and organic essential oils. These superior-quality oils inherently come at a higher cost compared to standard oils.
However, we believe that this dedication to quality is crucial in ensuring that our guests receive the most exceptional aromatherapy experience possible, where the richness and purity of the essential oils contribute significantly to the overall relaxation and well-being of our guests.
Location and Spa Type
Kiyora Spa, nestled in the heart of Chiang Mai, boasts a unique location.  Kiyora's grounds is purpose-designed to compliment an original teakwood manor, intended to create an environment of peace and tranquility.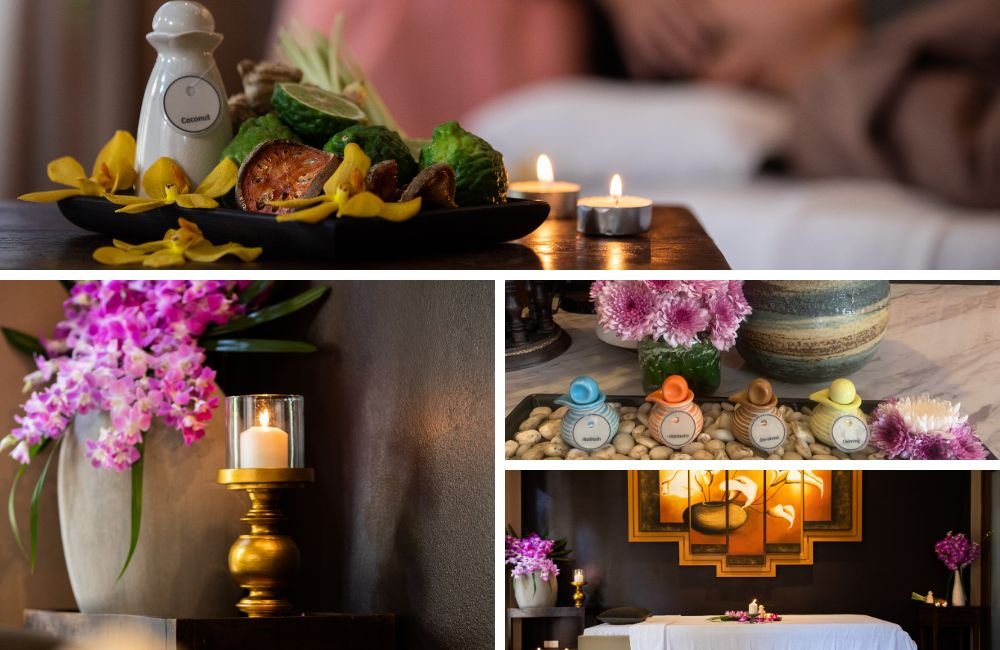 Featuring combinations of modern and traditional interiors, striking water features, a serene outdoor lounge and private treatment suites, adding an extra layer of charm to your spa experience.  Locations within the areas that are magnets for tourists, you'll often encounter opulent resort spas.
These establishments, complete with top-tier amenities, tend to charge a premium due to their prime locations. Although Kiyora Spa is firmly rooted in the ambience of a traditional Thai manor rather than a resort, our strategic position in this sought-after destination ensures hassle-free access for travelers.
Additional Amenities
Kiyora Spa is thoughtfully designed to offer a comprehensive relaxation experience, going beyond just the massage itself. When you visit us, you not only receive an exceptional aromatherapy massage, but also access to our serene gardens and walkways, a dedicated relaxation lounge, and a selection of refreshments.
Your experience begins with convenient transportation to our spa, and you're welcomed with soothing drinks and delectable desserts. After your massage, you can further unwind in our steam room or enjoy a rejuvenating bath.
All of these supplementary amenities and services add to the overall cost of our aromatherapy massages, ensuring your time with us is truly exceptional and memorable.
How to Book an Aromatherapy Massage at Kiyora Spa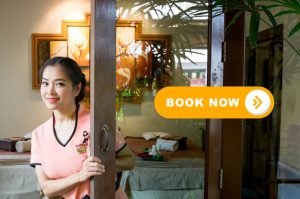 Ready to experience an Aromatherapy Massage?
It's more than just a regular oil massage that many get while in Thailand; Experience the transformative power of our aromatherapy oil blends. 
Treat yourself to the best in Chiang Mai and book your Aromatherapy Massage session today. Discover why our guests call it the #1 authentic retreat in the city. We also offer a Free Roundtrip Shuttle Service which will give you that VIP feeling. Secure your unforgettable experience now!