Wanna know more about Songkran in Chiang Mai 2024?  Well, we're the Songkran regulars of Chiang Mai, born and raised with this epic festival. We know all the nitty-gritty details, from the customs and traditions to the hidden treasures that make Songkran a one-of-a-kind event. Want to know the hottest spots to party or the juicy backstory behind this celebration? Look no further, 'cause we've got you covered. Trust us to guide you through the mystical wonderland of Songkran, and you'll be living it up like a true-blue local in no time!.
Songkran is a major festival celebrated annually in Thailand, marking the traditional Thai New Year. The festival is typically held from 13 April to 15 April and is known for its exuberant water fights, where people splash water on each other as a symbol of cleansing and renewal. In 2024, offical festivities will begin on Saturday, 13 April and will concluded on Monday, 15 April.  However, Chiang Mai locals are known to celebrate before and after official dates.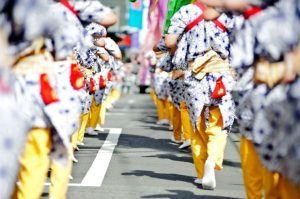 Get ready to splash into one of the most epic water fights on the planet – Songkran! But that's not all, folks! This wild and wonderful festival also includes parades, temple ceremonies, and traditional rituals. And when we say traditional, we mean pouring scented water on Buddha images – how cool is that?!
But wait, there's more! Songkran is deeply rooted in Thai culture and serves as a special time for families to come together and honor their ancestors. And guess what? This epic celebration isn't just limited to Thailand anymore – it's now celebrated all over Southeast Asia and around the world! That's right, folks, Songkran is now a truly global celebration of culture and community.
The history of Songkran goes way back to ancient Hindu traditions, which were then embraced and adapted by Buddhist culture in Thailand. And now, this amazing festival has also become a major tourist attraction, attracting visitors from all over the globe who want to experience the joy and excitement of this one-of-a-kind celebration.
So pack your water guns and get ready for the time of your life during Songkran in Chiang Mai 2024!
History and Significance of Songkran Festival in Chiang Mai
If you're looking for a wild way to ring in the Thai New Year, look no further than Songkran in Chiang Mai 2024! This annual extravaganza is celebrated all over Southeast Asia, but Chiang Mai is where the real magic happens. With throngs of visitors pouring into the city, you'll be right in the heart of the action as you soak up the culture and celebrate the start of a new year in style. Get ready to make some serious waves!
History of Songkran Festival:
Let me pour you a refreshing tale about the roots of the Songkran festival. Back in ancient times, folks believed that water had the power to wash away their past misfortunes and transgressions. So, they took to dousing each other with water to purify their souls and start anew. Nowadays, this tradition of splashing water has become an essential part of the vibrant Songkran festival. So, bring out your water guns and get ready to make a splash!
Picture this: Chiang Mai is already a stunningly beautiful city, but during the Songkran festival, it becomes downright magical. As the sweet scent of blooming flowers fills the air, the city explodes into a riot of colors and water fights, drawing in tourists from all over the world. The pink and white blossoms of the Dok Buak tree are especially dazzling, and have become synonymous with the festival, luring visitors to join in the celebration.
Significance of Songkran Festival in Chiang Mai:
Get ready to dive deeper into the heart of Songkran festival in Chiang Mai! Beyond the water fights and wild festivities lies a beautiful time for reflection and renewal. During this festive season, people make merit and pay respects to their ancestors and elders in temples throughout the city. Devotees perform rituals and offer food and flowers to Buddha statues as a sign of gratitude and devotion.
But it's not just about worship and reflection! The festival also offers a perfect opportunity for family reunions, as people flock to their hometowns to celebrate with loved ones. And in Chiang Mai, the locals go all out to showcase their unique cultural traditions. One of the highlights is the parade of the Buddha images, where 20 statues are carried on the shoulders of local residents. You'll see why Chiang Mai is a must-visit destination during the Songkran festival!
Tourism and Economic Impact:
Hold on to your water guns, folks, because the Songkran festival is not only a blast of fun, but it also means big bucks for Chiang Mai! This party pumps a whole lot of life into the local economy, raking in more than 6 billion baht (that's $191 million in US dollars) in revenue in 2019 alone.
But with great celebration comes great responsibility, and the surge of tourists during Songkran can bring some challenges for the city. Traffic can get gnarly, litter can pile up, and safety can be a concern. However, the savvy local authorities have taken steps to make sure the festival flows smoothly, with traffic restrictions, extra garbage bins, and more cops on patrol.
Despite the hustle and bustle, Songkran is a chance for everyone to come together and celebrate their roots. It's a time to revel in the unique traditions of Chiang Mai and pay respect to ancestors and elders. Whether you're a local or a visitor, the festival is a chance to reflect on the importance of family, spirituality, and renewal, while having a splashing good time!
Top Places to Celebrate Songkran in Chiang Mai 2024
Alright, hold onto your water guns and get ready to make a splash, because we're about to dive into the ultimate guide to celebrating Songkran Festival in Chiang Mai! Known for its rich history and cultural significance, this vibrant city is a must-visit destination for anyone looking to experience the wildest and wettest festival in Southeast Asia. So, let's take a journey through the top spots to soak up the fun and festivities during this epic celebration!
Thapae Gate:
If you're looking for a wild and wet time during the Songkran Festival in Chiang Mai, then Thapae Gate should definitely be on your list of destinations! This ancient city gate transforms into a water wonderland where everyone is invited to join in on the fun. With water guns, buckets, and hoses at the ready, locals and tourists alike get soaked to the bone as they splash around in the festivities. It's a chaotic and colorful experience that you won't want to miss out on!
Nimmanhaemin Road:
Looking for a hip and happening place to celebrate Songkran in Chiang Mai? Look no further than Nimmanhaemin Road! This trendy and bustling street is a hub of excitement during the festival, with revellers splashing water on each other and dancing to the beat of thumping music from the DJs. Don't miss out on the tasty treats and refreshing drinks from the vendors as you soak in the cultural festivities and activities. Nimmanhaemin Road is the perfect spot for those seeking a vibrant and dynamic Songkran experience.
Ping River:
Hop on a boat and sail away to a refreshing take on the Songkran festivities at Ping River in Chiang Mai! Get a unique view of the festival as you glide along the serene waters and soak up the sun. Take in the vibrant energy from a distance, or join in on the water wars as you cruise by the riverbanks, where partygoers are splashing and having a blast! The Ping River is a refreshing break from the hustle and bustle of the city center, allowing you to experience the festival from a new perspective.
Wat Phra Singh:
Welcome to the holy grounds of Wat Phra Singh, a temple that knows how to party during the Songkran festival in Chiang Mai! The temple is not just a place of worship but also a hub of cultural celebrations. Visitors can witness traditional ceremonies and rituals that honor the spiritual significance of the festival. And when it's time to get wet and wild, the temple grounds turn into a water fight paradise, with everyone joining in on the fun in a respectful and joyful manner. So, come on down to Wat Phra Singh and get ready to experience the spiritual and playful sides of Songkran!
Chang Puak Gate:
If you want to make a splash during the Songkran in Chiang Mai 2024, then head over to the Chang Puak Gate. This historic landmark transforms into a wet and wild utopia during the festival, with locals and tourists unleashing their water guns and buckets in an epic water fight. But that's not all – you can also enjoy traditional cultural performances and soak up the festive atmosphere. Get ready to make a splash and create memories that will last a lifetime!
Get ready to soak in the fun, because Chiang Mai is the place to be for Songkran Festival in Thailand! With its deep-rooted history and cultural significance, this city has become a go-to destination for locals and travelers alike looking to celebrate the Thai New Year. The top spots to join in the festivities include the wild water fight zone of Thapae Gate, the trendy Nimmanhaemin Road with its cultural events and street parties, the serene Ping River where you can relax and enjoy a boat ride, the spiritual ceremonies at Wat Phra Singh, and the vibrant atmosphere of Chang Puak Gate with its traditional performances. Just be ready for the crowds and traffic, because the party is always in full swing during Songkran in Chiang Mai!
Traditional Customs and Rituals During Songkran Festival
This festival is more than just water fights and parties, it is a time of reflection, reverence, and renewal. Families reunite, elders are respected, and unique customs and rituals are followed to pay homage to ancestors and the Thai culture.
Let's take a closer look at the traditional customs and rituals that make the Songkran Festival so special. From pouring water over Buddha statues to building sand pagodas, we'll uncover the hidden gems of this festive celebration.
Water Splashing:
Get ready to soak up the fun during Songkran because water splashing is the name of the game! This tradition is more than just a way to cool off during Thailand's hot season – it symbolizes the cleansing of bad luck and sins from the previous year. The waterworks are especially popular in Chiang Mai, where locals and visitors alike gear up with water guns, buckets, and hoses to drench each other with waves of water. With the streets filled with lively music, infectious laughter, and good times, it's impossible not to join in on the watery festivities!
Paying Respect to Elders:
During the Songkran Festival, it's not just about water fights and partying – there are also some beautiful traditions that take place. One of the most heartwarming customs is the act of showing respect to elders. Younger people pour scented water on their elders' hands and ask for their blessings for the new year. This is a touching way to show gratitude for their guidance and support, and a way to honor their wisdom and experience. Another way to pay homage to ancestors and loved ones is by visiting temples and offering prayers and making merit. It's a beautiful way to reflect on the past and look towards the future with hope and gratitude.
Traditional Clothing:
Get ready to dress to impress during Songkran! This festival is the perfect occasion to show off your traditional Thai clothing. For the men, it's time to ditch those boring T-shirts and put on a long-sleeved shirt and loose-fitting pants. And ladies, it's time to slip into a stunning long-sleeved dress. The clothing is designed to keep you comfortable in the scorching heat while looking fabulous. You'll be turning heads with the intricate patterns and vibrant colors that adorn these traditional outfits. So get ready to dress to impress and show off your sense of style during Songkran!
Feasting:
Get your taste buds ready because it's time to talk about the mouth-watering cuisine during Songkran! Thai food is a feast for the senses, with its explosion of flavors, colors, and textures. During the festival, families and friends gather together to share traditional dishes, which are both delicious and symbolic. One of the must-try dishes during Songkran is Khao chae, which is a fragrant rice dish soaked in jasmine-scented water and served with an array of side dishes. Another popular dish is Som tam, a spicy and tangy papaya salad that is sure to tickle your taste buds. With so many scrumptious options, you'll never go hungry during Songkran!
Songkran in different regions:
Ready for a fun fact? Even though the Songkran Festival is celebrated across Thailand, different regions have their unique twists on the festivities. For instance, if you happen to find yourself in the northern city of Chiang Mai, brace yourself for an extended party and epic water fights! Chiang Mai is known for its intense water splashing activities, where locals and tourists engage in massive water wars that can last for days! Meanwhile, the southern city of Phuket puts on a dazzling parade with traditional costumes, music, and dancing, making it a must-visit destination during the festival. Wherever you choose to celebrate, you're guaranteed to have an unforgettable experience!
Surviving Songkran: Tips for Staying Safe and Having Fun
Get ready for some tips to stay safe and still have a blast during Songkran in Chiang Mai 2024! As much as we all want to get soaked in water and splash around with friends, it's essential to take some precautions. Here are some tips to help you stay safe and enjoy the festivities:
Protect your valuables
As you gear up for the wild and wet celebrations of Songkran, don't forget to protect your precious belongings from getting soaked! Yes, we're talking about your phones, cameras, and wallets – all the things you need to document and enjoy the festival. But fear not, there are ways to keep them dry and safe. Grab yourself a waterproof bag or pouch to stash your stuff, or just leave them at home if you can do without them. And when you do venture out, stash your valuables in your hotel room safe or locker before joining the wet and wild fun.
Wear appropriate clothing
Get ready to dress up in the most vibrant and comfy outfits for Songkran! Choosing the right clothes is crucial to make the most of this festival while staying comfortable and safe. Quick-drying materials and light-colored clothes are your best friends during Songkran to avoid discomfort and stay cool under the blazing sun. And don't forget to put on your shades to shield your eyes from the splashing water, and a stylish cap or hat to protect your face from the sun.
Choose your location wisely
Are you ready to make a splash at Songkran? Just remember to choose your location carefully! You don't want to be caught in a crowded spot where accidents can happen. And stay clear of heavy traffic areas, too. When it comes to splashing water, it's best to avoid people riding motorcycles or bicycles. Keep an eye out for electrical outlets, too. Safety first, fun second!
Use only clean water
If you're planning on splashing and dashing during Songkran, remember to use only clean water. You wouldn't want to get sick from using contaminated water, would you? Carry a refillable water bottle with you to fill up at clean sources or purchase bottled water to keep your splash game strong. And here's a pro-tip: Avoid swallowing any water during the festivities – it's not a good idea to ingest water that has been splashed around!
Don't drink and drive
We all love to celebrate with a drink or two during Songkran, but let's not make a stupid decision and drink and drive. It's just not worth the risk. Trust me, you don't want to end up in a pickle with the cops, or worse, in an accident that could have been easily avoided. So, be smart and plan ahead. Get a designated driver or use public transportation to get around. It's better to be safe than sorry.
Respect local customs and traditions
If you're planning to join the wild and wet celebration of Songkran, make sure you respect the local customs and traditions. In Thailand, it's a big deal! For instance, don't go dousing monks, the elderly, or anyone who doesn't want to join in the fun with water. Also, make sure you dress respectfully and behave appropriately when you visit temples or other sacred places. Trust us, you don't want to be the buzzkill that ruins the festival for everyone.
Other Activities to Enjoy During Songkran Festival in Chiang Mai
Hold on to your water guns because Chiang Mai is about to take your Songkran experience to the next level! This city is an absolute gem when it comes to the Thai New Year celebration, offering more than just the traditional water fights. If you're planning to celebrate Songkran in Chiang Mai 2024, buckle up and get ready to explore the city's vibrant culture, food scene, and thrilling activities. We'll take you through some of the top experiences that you definitely don't want to miss out on during the Songkran festivities.
Khantoke Dinner and Cultural Show
Are you ready to be dazzled and delighted by an unforgettable cultural experience in Chiang Mai? Look no further than the Khantoke dinner, a traditional northern Thai feast served on a low table called a Khantoke. Enjoy a mouth-watering spread of local delicacies while being entertained by a lively cultural show featuring traditional dances and music. During Songkran, many restaurants and hotels in Chiang Mai offer Khantoke dinners, giving you the perfect opportunity to immerse yourself in the local culture and cuisine. Don't miss out on this one-of-a-kind dining experience!
Temple Visits
Looking for a spiritual experience during the Songkran festival? Look no further than Chiang Mai's stunning temples. These majestic structures come alive during the festival, hosting a variety of special events and activities that offer a glimpse into Thai culture and spirituality. From mesmerizing candlelit processions to traditional dances and merit-making ceremonies, there is something for everyone to enjoy. So take a break from the water splashing and immerse yourself in the spiritual side of the festival by visiting the temples in Chiang Mai.
Night Markets
Hold on tight to your wallets and get ready to shop 'til you drop at the vibrant night markets of Chiang Mai during the Songkran festival! From intricately designed handicrafts to stylish clothes and unique souvenirs, you can find almost anything you desire here. But that's not all – you'll also get to indulge in mouth-watering street food that will leave your taste buds craving for more. And let's not forget the water guns and splashing equipment that vendors are sure to offer, making your shopping spree a wet and wild adventure!
Adventure Activities
Looking for adventure during the Songkran in Chiang Mai 2024? Look no further than the natural wonders surrounding the city! Get your adrenaline pumping with exciting activities like hiking, zip-lining, and white-water rafting in the stunning countryside. And if you're an animal lover, don't miss the opportunity to visit one of the many ethical elephant sanctuaries in the region, where you can spend time with these magnificent creatures in a responsible and sustainable way. From soaring through the treetops to splashing through the rapids, there's something for every adventure seeker in Chiang Mai!
Songkran Parade
The Songkran parade is a feast for the senses that you simply can't miss! With vibrant colors, upbeat music, and glittering floats, the parade is a dazzling display of traditional Thai culture. You'll see dancers twirling in intricate costumes, hear the beat of drums and cymbals, and catch the scent of fragrant flowers lining the streets. Follow the parade route from Thapae Gate to Wat Phra Singh, and you'll be swept away by the festive atmosphere and the joyous spirit of the crowd. It's a once-in-a-lifetime experience that will leave you spellbound!
Why Not Get a Massage at a Spa in Chiang Mai During the Songkran Festival?
Are you feeling weary and worn out from all the Songkran shenanigans? Fear not, for a massage can do wonders to recharge your batteries! Let's delve into why getting a massage during this festive period can be an absolute game-changer.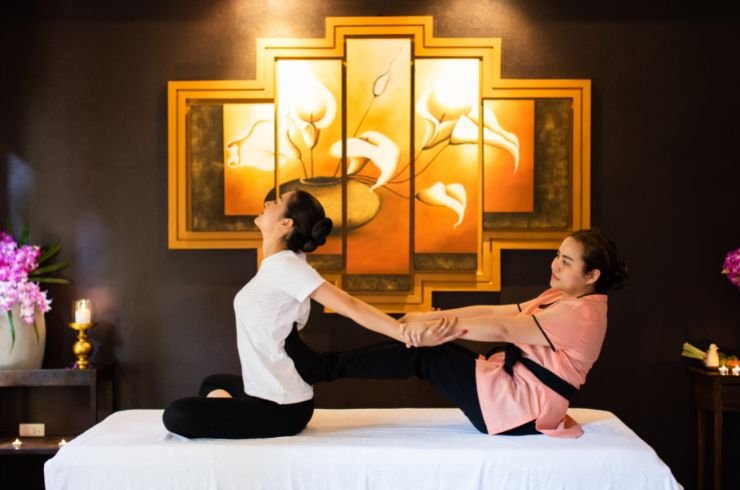 Relieve Stress
Are you feeling frazzled from all the water splashing and the endless crowds? Fear not! A massage might just be the ticket to relief and relaxation. Not only does a massage release the knots and tensions in your muscles, but it can also help calm your mind. Studies have shown that massage therapy can lower cortisol levels, the hormone responsible for stress. So why not take a break from the chaos and treat yourself to a rejuvenating massage during the Songkran festival?
Soothe Aching Muscles
Ah, the joys of Songkran – splashing, walking, and endless fun. But all that excitement can leave your muscles feeling like they've been through a grueling workout. That's where a massage comes in! With its magical powers, a massage can soothe those sore muscles and ease the inflammation, making sure you're in top shape to keep celebrating. Say goodbye to discomfort and hello to endless Songkran enjoyment!
Boost Immunity
Do you want to keep those germs and bacteria at bay during Songkran? A massage might be just what the doctor ordered! Massages have been proven to boost your immune system, making you less susceptible to those pesky bugs that could ruin your festive fun. That's right, massage therapy can increase the activity of white blood cells, which are the body's own superheroes, responsible for fighting infections and diseases. So don't let those germs rain on your parade, get a massage and stay healthy during Songkran!
Improve Sleep Quality
Feeling like a walking zombie after a long day of Songkran festivities? Don't worry, a massage can help you recharge and catch up on some much-needed Zzzs. Massage therapy is known to promote relaxation and reduce anxiety, which can help improve the quality of your sleep. So whether you're partying late into the night or just need some downtime, a massage can help you wake up feeling refreshed and ready to take on the next day of Songkran shenanigans.
How Do I Book a Massage Session at Kiyora Spa?
We have a simple online booking system. Choose a massage or spa package on our website's menu. Or if you already know which massage or spa package to choose, then you can simply enter your details here or call us on 095 696 1400, and our friendly team will help you schedule your appointment.  If you didn't know, we offer a complimentary round-trip shuttle service to make your visit to Kiyora even more relaxing.
If you found this article informative, don't keep it to yourself! Share it with your loved ones who are also gearing up for the Songkran in Chiang Mai 2024. Spread the word about the exciting adventures and experiences that await them.  After all, there's nothing better than celebrating with the people you love, so invite them to join in on the fun!