At Kiyora, we're in the business of caring for people's wellbeing.  As we welcome more and more spa-lovers to Chiang Mai, our level of commitment to the safety of our guests and staff has never been more paramount.  Here is a summary of our comprehensive Covid-19 Health, Safety & Environment Policy we have in place to ensure our premises are safe for all.
Guest Experience
We have all gone through a lot of struggle during the pandemic and now that we are on the verge of being on the other side, it's about time you indulge and book in some quality 'me' time.  Here's how you can help as you begin to look after yourself a bit more and improve your wellbeing post-pandemic:
Before Your Appointment
Please stay home if you have tested positive for COVID-19 or have had known close contact with anyone who has within 14 days of your appointment.
Do the same if you are experiencing any of the symptoms below:
At The Spa
Masks – As per the latest guidelines by the CDC Thailand (Centers for Disease Control and Prevention), masks are required for both fully vaccinated and unvaccinated guests. Please wear a mask over your nose and mouth in all shared spaces, as will our staff.  During your treatment, wear your mask whenever possible, with a few exceptions:
Facials: Keep your mask on until your therapist requests you to remove it.
Massage: Masks are required when you are in the supine position (face-up), and optional when you are in the prone position (face down).
Hands Sanitization – Disinfect your hands with hand sanitizers available throughout the spa.  The first one that you will notice will be at the screening area before entering our front door.  They are also available in our transportation vehicles.
Temperature Checks – Your temperature will be checked with an IR (infrared) thermometer prior to entering the spa.  The reading must indicate that you do not have a fever.  As we all know, fevers are one of the most common symptoms of COVID-19.
Social Distancing – Practice social distancing by maintaining a distance of at least 2 metres (6 feet) from other guests at the spa.  When required, there will markings on the floor and furniture to help guests keep a safe distance.  Furthermore, we have re-arranged furniture, utilised additional shared spaces and staggered guest bookings to make this practice manageable and to cause as little disruption as possible to your Kiyora experience.
Enhanced Health, Safety and Environment Protocols for COVID-19
Our health, safety and environment policies were already above standards prior to the pandemic.  To further decrease the risk of spreading any viruses, additional measures have been applied to our existing protocols with guidance from: CDC (Centers of Disease and Prevention Thailand), SHA (Amazing Thailand Safety and Health Administration), MOPH  (Ministry of Public Health) and ISPA (International Spa Association).
Every aspect of the Kiyora guest experience is addressed below.  We believe that our transparency will help guests understand what to expect prior to visiting our spa.
A) In-Treatment Health and Safety Protocols
You can trust that you will be in great hands with our professional, experienced, and talented massage therapists.
Here's what to expect during your treatment in your private massage suite:
Staff will be wearing masks at all times.
Therapists are required to wash their hands before and after every guest service.
Massage suites are sanitized between each guest service.  This includes disinfection of high-touch areas such as doorknobs, etc.
Extra time has been added between guest services to allow for more thorough cleaning, disinfection and the use of a portable ozone sterilizer.
Air purifiers with HEPA (high efficiency particulate air) filters are used in massage suites, which circulate the air and remove 99.97% of airborne particles.
As always, every guest service features fresh sheets, pillow covers and towels. All supplementary items i.e. linens, robes, towels, etc. are serviced through our laundry service provider who wash and disinfect our goods after use.
B) EMPLOYEE PROTOCOLS
The health and wellbeing of the Kiyora team is always atop of our priority list.  Our employee health and safety measures amplify their safety, as well as yours.
All staff have received COVID-19-specific training.  Any updated training will be given to ensure we comply with the latest regulatory guidelines.
All employees undergo daily wellness checks prior to starting work.
Staff are provided with all necessary PPE (personal protective equipment) including facemasks, face shields, safety goggles, aprons and gloves. All employees are required to wear a facemask (over mouth + nose) at all times.
Employees must wash their hands with water and soap, frequently and diligently, as per regulatory guidelines.
Therapists must change facemasks after every guest service.
C) SHARED SPACE PROTOCOLS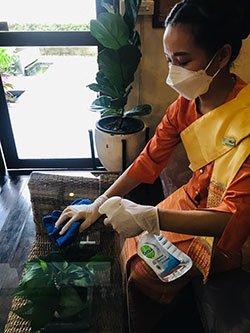 Kiyora's standards for cleanliness and hygiene have always been industry-leading in Thailand. We've boosted the frequency and stringency of our cleaning methods for our private massage suites and our shared spaces — lobbies, outdoor lounge, transportation vehicles and staff areas.
All surfaces are cleaned frequently, along with high-touch areas and objects such as doorknobs and handles. Our cleaning solution used for surfaces is medical grade and kills 99.9% of bacteria & viruses.
Extra preparation time has been added before opening time to implement the cleaning power of an ozone room sterilizer.
Air purifiers with HEPA (high efficiency particulate air) filters are also used in shared spaces.
Hand sanitizer is available throughout the spa for guest and staff use.
As we move forward with life post-pandemic, we will polish and tweak our health, safety and environment protocols to ensure that your Kiyora experience is a safe, enjoyable and a memorable one.