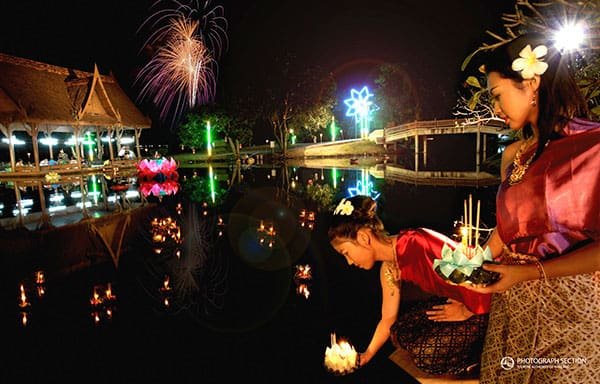 Two of the most popular and important Thai festivals are Loy Krathong and Yi Peng. Celebrated throughout the country, both festivals are highly celebrated in Chiang Mai, Sukhothai and Ayutthaya.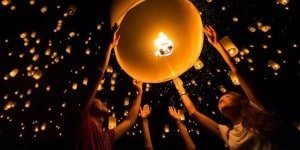 Loy Krathong and Yi Peng are widely known for their incredible lights and colors. Loy Kratong is celebrated in the twelfth month of the year—in line with the Thai calendar—during the days leading up to the full moon. The festival is fully interactive and you'll see folks decorating baskets and floating them down the river, a krathong folded in banana leaves, incense, and candles all captured in the basket.
Yi Peng takes place at the same time as Loy Krathong. The hallmark of Yi Peng is a giant release of lanterns into the air. Weeks before the celebrations of both festivals, Thai cities are full of decorations and twinkly lights.
Festival Facts
During Loy Krathong, people make a wish before sending their baskets (or krathongs) down the river. It's believed that doing so is seen as a sign of respect by the spirits that inhabit the water. Some also send a lock of hair or a piece of their fingernail with the krathong that signifies they are letting go of negative thoughts and past bad deeds.
Yi Peng, on the other hand, is all about driving off bad luck. Releasing lanterns is symbolic of letting go of bad energy and sins. After the lanterns are released, the people pray that their sins are carried far away with them. Many people even put money in the lanterns so that whoever finds them when they come back to earth is given good luck.
Extra Festival Highlights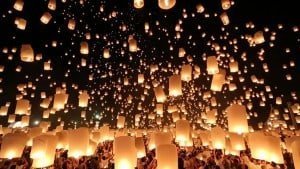 If you're traveling to see this festival in person, you can expect some serious fun. The Nopphamat Queen Contest, for example, is a beauty contest held each year during the festival.
The lantern release will actually happen in three separate stages each with its own meaning. You'll also note that it is synchronized for the fullest effect.
What to Expect?
As a tourist, you'll also be expected to sit and pay respect to Lord Buddha so be prepared. Come a few weeks before the actual celebration as festivities last quite a while. The end of the festival is the Loy Krathong celebration.
You should also expect to see houses and businesses completely decorated with banana stems, lanterns, and palm branches in every direction. Hanging lanterns are also known as "Kome" in the local dialect. You'll definitely get to watch some fireworks when you show up for these festivals as well!
So come and laugh, sing, eat, and gain some good luck when you attend these two amazing Thai festivals